2018 Jaguar E-Pace Driving Impressions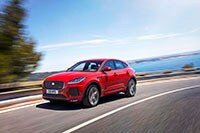 Planting itself solidly on the pavement, the E-Pace feels confident, without requiring much correction. In Normal drive mode, the electric power steering is light, yielding a sense of disconnection from the front wheels. Dynamic mode adds weight to the steering wheel, without increasing road feel.
With 20-inch wheels, the ride is quiet and comparatively calm. Variable dampers on upper trim levels can firm up suspension in Dynamic mode, but it's far from stiff.
Although E-Pace engines function well, some low-speed hesitation in the 296-horsepower version is likely caused by an indecisive 9-speed transmission. Overly eager to upshift, especially in Normal mode, the transmission is prone to lagging and hesitation. Acceleration is acceptably brisk, though not quite swift, even with the R-Dynamic engine. Still, acceleration to 60 mph with the upgraded engine is achieved in less than six seconds. Dynamic mode moderates some of the transmission's indecision.
Engines sound gruff and unrefined, almost to an obnoxious level. Fortunately, little of that sound makes it into the cabin.
Jaguar's all-wheel-drive systems, derived from Range Rover/Land Rover, rank with the best from luxury automakers. The base system normally operates at a 50/50-split, front-to-rear, but can transfer nearly total power to either end to maintain traction. The Active Driveline configuration in R-Dynamic models features torque vectoring that adds power to outside wheels, boosting cornering capability.
Fuel economy is on par with competitors. The base powertrain is EPA-rated at 21/28 mpg City/Highway, or 24 mpg Combined, while the higher-powered turbo reduces Highway and Combined figures by one mile per gallon each.
Vehicle shown is for illustrative purposes. Actual vehicle image and details may differ. Vehicle in transit.