2018 Jaguar E-Pace Introduction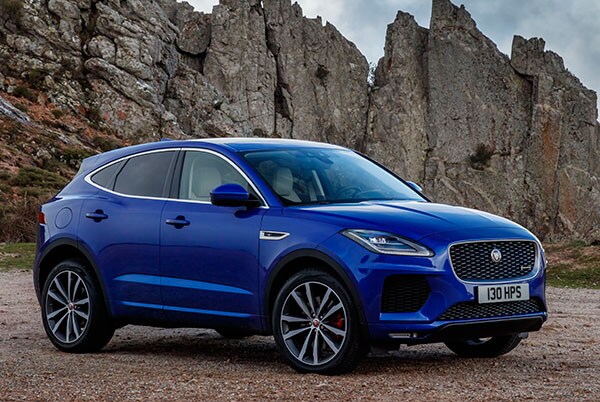 Jaguar launched a brand-new compact performance crossover model for the 2018 model year, joining the larger F-Pace. Simply gorgeous in design, the new Jaguar E-Pace hits the jackpot in technology, offering true torque vectoring to strengthen its handling potential.
Beneath its bonnet, a turbocharged 2.0-liter four-cylinder engine comes in a choice of two tuning levels: The base version produces 246 horsepower and 269 pound-feet of torque, with 296 hp and 295 pound-feet for the optional variant. Both team with a 9-speed automatic transmission and standard all-wheel drive.
For the first time, a Jaguar engine is mounted transversely, rather than longitudinally.
Standard-engine models come in base, S, and SE trim levels. R-Dynamic versions, offered in S, SE, and HSE trim, get the upgraded 296-horsepower engine. For the 2018 season, Jaguar also offers a First Edition model, based upon the R-Dynamic SE.
R-Dynamic models feature a unique front bumper, deeper air intakes, foglamps, stainless steel pedals, and body-color sills. An R-Dynamic option for S and SE trim adds the more potent powertrain, sporty exterior touches, and shift paddles.
Two distinct all-wheel-drive systems are available. For the higher-powered engine, an Active Driveline system, borrowed from the Range Rover Evoque, transfers power both front-to-back and side-to-side. The result is power-based torque vectoring, in contrast to brake-based system from other automakers. In addition to tightening control in corners, the system can lock the rear wheels, yielding road behavior that seems impossible for a crossover that's front-wheel biased.
Though dimensions are similar to a BMW X1 or Mercedes-Benz GLA, the E-Pace is about three inches wider, and that's noticeable to the driver. In terms of driving characteristics, the Alfa Romeo Stelvio might be considered a competitor.
Jaguar aims to defy the expectation that compact crossovers are on the dull side, promising a vehicle that can be fun to drive as well as attractive. Starting below $40,000, the E-Pace includes a 10-inch infotainment touchscreen, though Apple CarPlay is unavailable.
A rearview camera is standard. Advanced safety systems include forward collision warning with automatic emergency braking, lane-keep assist, and driver-condition monitoring. Jaguar also offers a surround-view camera system. A forward-mounted camera can help see around obstructions at intersections.
Vehicle shown is for illustrative purposes. Actual vehicle image and details may differ. Vehicle in transit.