2018 Jaguar F-Pace Introduction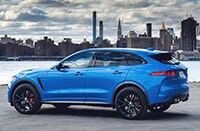 The Jaguar F-Pace crossover SUV was introduced as a totally new vehicle for 2017 with a 340-horsepower supercharged V6. Within months, Jaguar added a high-mileage 2.0-liter turbodiesel, and six months after that added a bread-and-butter 2.0-liter turbocharged four-cylinder gas engine. That was enough for the F-Pace to be named World Car of the Year.
For 2018, a fourth engine is added: a more powerful 2.0-liter turbo four, making a strong 296 horsepower and 295 pound-feet of torque. Designated the 30t, it can accelerate from zero to sixty miles per hour in 5.7 seconds and gets an EPA-estimated 25 Highway miles per gallon on Premium gasoline. It costs about $3000 more than the base turbo-four engine, called the 25t, which makes 247 horsepower with 269 pound-feet of torque, and accelerates from zero to sixty in 6.4 seconds while getting a couple more miles per gallon than the 30t.
Meanwhile the supercharged V6, now called the S model, gets boosted from 340 to 380 horsepower, and accelerates from zero to sixty in 5.1 seconds.
Other changes for 2018 include available driver assistance technologies such as Forward Vehicle Guidance and Forward Traffic Detection3.
The F-Pace uses the same solid rear-wheel-drive structure that is the foundation for the Jaguar XE sedan, although the architecture is expanded for the SUV; for example, all-wheel drive is standard on all models. All engines transmit thrust through an 8-speed automatic transmission, primarily to the rear wheels, sending power to the front wheels when needed.
Size-wise, the F-Pace is bigger than the BMW X3 and smaller than the X5. Its careful proportions disguise its size. It doesn't look it, but it's also slightly bigger than rivals like the Audi Q5, Mercedes GLC, and Porsche Macan. Notably, it's lighter, thanks to a body shell that's 80 percent aluminum.
It's dynamically and visually athletic, as well as versatile, being roomy inside, and quiet. Infotainment and telematics are substantially improved over previous Jaguars. Even all-terrain capability has been addressed, with a new system called Surface Progress Control that allows the driver to select a very slow speed for crawling up or down slopes, great for icy roads.
Fuel economy is average, with the supercharged V6 EPA-rated at about 20 Combined miles per gallon. The 20d turbodiesel earns a 26/33/29 mpg rating, while the 25t turbo four is good for 22/27/24 mpg, on Premium fuel.
Vehicle shown is for illustrative purposes. Actual vehicle image and details may differ. Vehicle in transit.