2018 Jaguar XJ Driving Impressions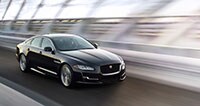 Every Jaguar XJ delivers a far sportier experience than is customary for the premium large-sedan class. Smooth and refined with a V6 powertrain, the British luxury sedan turns into a sophisticated fireball in new XJR575 form.
Because of the XJ's lightweight chassis, the efficient V6 produces ample energy, not so far removed from V8 performance. Acceleration to 60 mph takes about 6 seconds with the V6, versus 4.9 seconds for V8 models.
Jaguar's admirably responsive 8-speed automatic transmission shifts smoothly and promptly. S mode holds each gear longer, when desired. JaguarDrive Control has Normal, Dynamic, and Winter settings that affect the throttle, transmission, steering, and ride quality.
As a rule, each XJ is quite composed. Reflexes are pure and predictable. Adaptive dampers work with the comparatively light body to present a more unified driving feel than typical competitors. Big ventilated disc brakes on each model yield good pedal feel.
Standard adjustable dampers and an adjustable rear air suspension smooth out most bumps. Although the ride is generally smooth, it starts to decline on high-performance models. Some drivers may consider the XJR575's suspension too firm.
On dry pavement, Jaguar's all-wheel-drive system sends 90 percent of power to the rear wheels, but a front/rear split up to 50/50 is possible.
Jaguar's V6 engine is fairly fuel-efficient for the class, EPA-rated at 18/27 mpg City/Highway, or 21 mpg Combined, with either the short or long wheelbase. All-wheel-drive drops the estimate to 17/26/20 mpg for the short-wheelbase model and 17/25/20 mpg for the long wheelbase sedan.
The supercharged V8 is EPA-rated at 15/23 mpg City/Highway, or 18 mpg Combined. No estimate is available yet for the new XJ575. Jaguar's stop-start system works well, with barely a flutter.
Vehicle shown is for illustrative purposes. Actual vehicle image and details may differ. Vehicle in transit.